Bad Guy 1
$1100
Oil on canvas

When I look at this painting I imagine that this guy is at a big-wig benefit dinner hosted by his wife and that this veneer of respectability cloaks less altruistic motives.
Bad Guys From Selma
$650
Oil on paper
There is a little history in this painting recalling the casual cruelty of the overtly repressive civil rights era.
Bad Guys
$900
Oil on canvas
The facial gestures of these men; the sliding eyes and talking out of the corners of their mouths seem to direct the viewer to an unsuspecting someone on the other side of the room.
Beach Scene Vignette 2
$750
Oil
When looking at the vast expanse of the endless white sands of the beaches along the national seashore at Ft. Pickens, it seemed to me that the groups dotting the landscape & gathered around their blankets and umbrellas were small islands; starkly contrasting vignettes of activity and color.
Beach Scene Vignette
$1200
Oil
As people settle into their visit to the seashore & succumb to the elements: the hot sun, the rhythmic meditative sounds of the waves, they allow themselves to indulge in their animal nature, much like seals or walruses, frolicking with each other or just basking in the sun.
Bulldog
$650
Oil on paper
The title of this painting says it all.
Cloudscape 1
$1850
Pastel
"I can be jubilant one moment and pensive the next, and a cloud could go by and make that happen"
- Bob Dylan
Cloudscape 2
$1850
Pastel
Every dawn presents a new mural in the sky, sometimes whimsical, at other times one of furious beauty.
Cloudscape 3
$1850
Pastel
"The sky is the daily bread of the eyes."
- Ralph Waldo Emerson
Cloudscape 4
$1850
Pastel
"I'd like to just get one of those pink clouds and put you in it and push you around."
- F. Scott Fitzgerald
Mom Dad & Car
$1100
Oil on canvas
This painting is from an old black & white photo from the 50's of my parents and their car. They are eternally young in it, but the years have taken their toll on the photo itself. It is torn and stained with a hole where it was once pinned to the wall.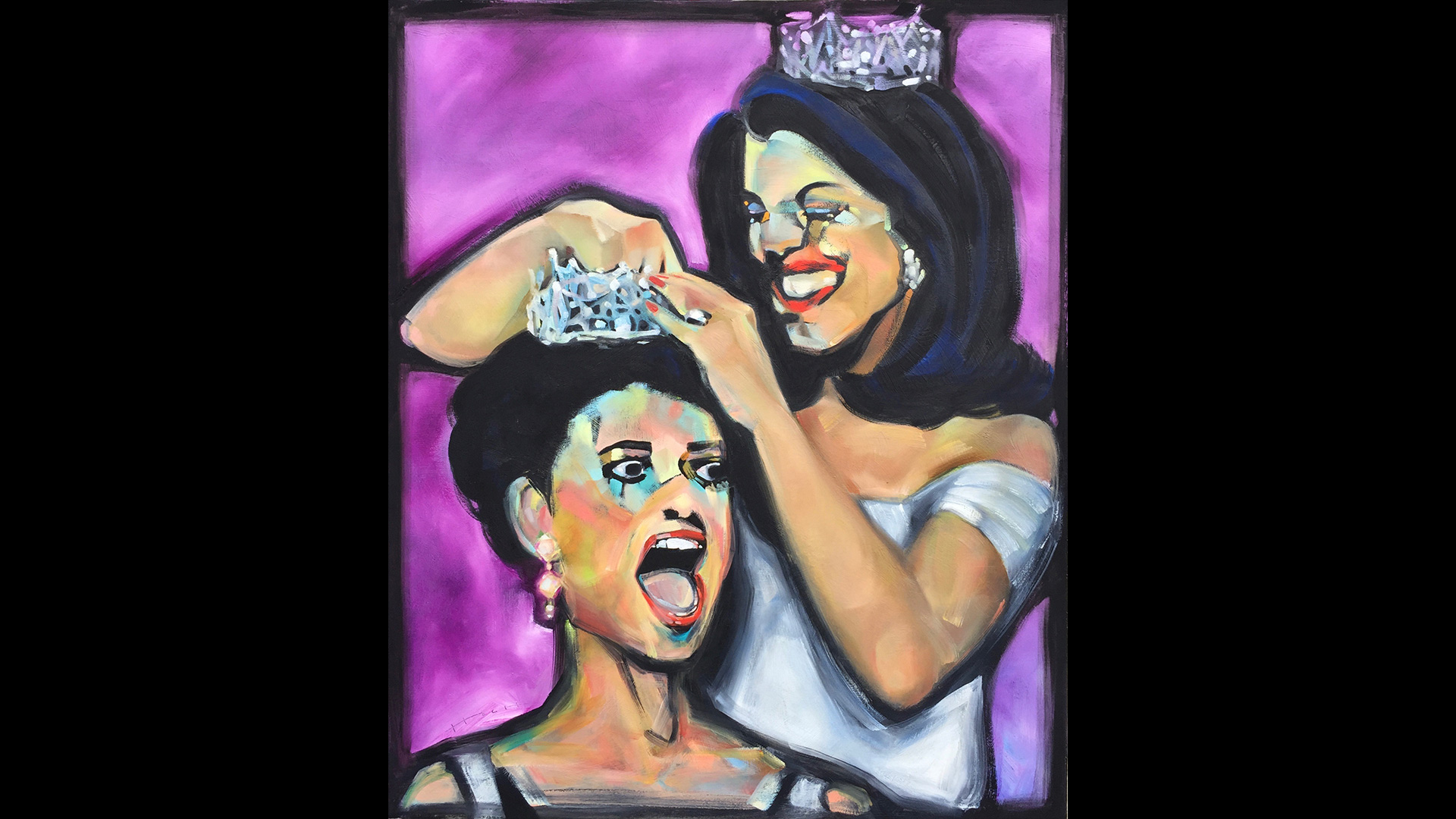 OMG, I Won! 2
$1100
Oil on canvas
Last year's winner is a study of contrast to this year's. Been there, done that, but genuinely pleased for the new winner.
OMG, I Won! 3
$650
Oil on paper
It is so much fun to paint the supreme candidness of the shock of winning.
OMG, I Won! 4
$350
Oil on paper
If you didn't know this image is a beauty contestant winner, it is interesting to see how one could mistake an expression of shock & joy for anger or despair.
OMG, I Won!
$900
Pastel
I love that moment in a beauty pageant when the winner is announced and last year's winner is there, no doubt remembering her own initial OMG moment.
The Conspirators
$750
Oil on canvas
One man is absorbing information as the other one feeds it to him.
The Judge & His Wife
$450
Oil on canvas
This painting is from an old "found" photograph. I have no idea who they really are.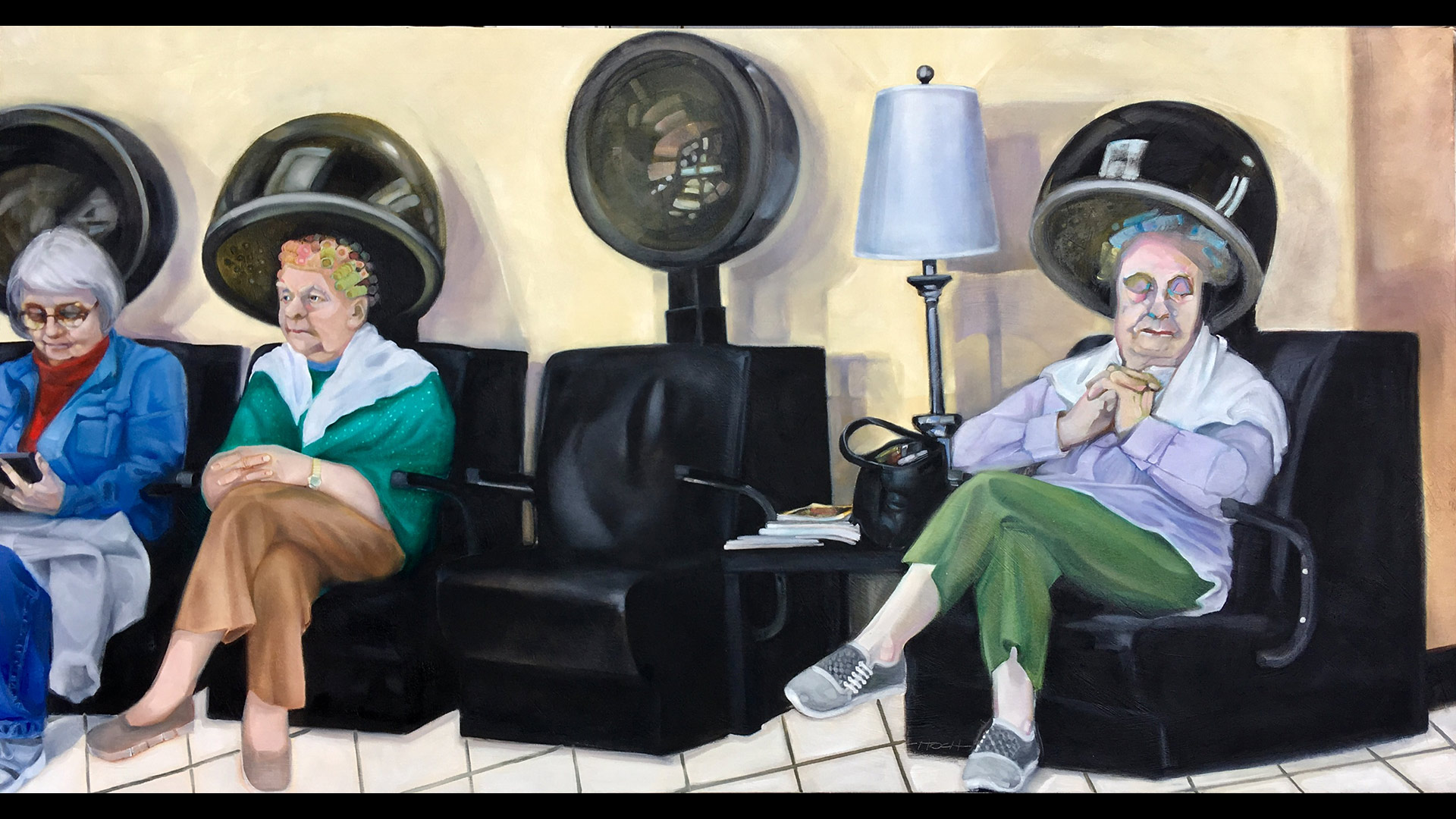 Self Portrait
$300
Mixed
I got interested in painting faces as landscapes. The most handy face around is my own and the easiest one to use as a reference with little regard to likeness.